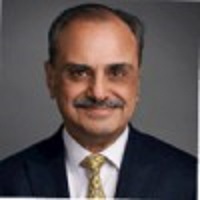 Danesh Varma
Senior Investment Advisor
---
Danesh Varma is a highly accomplished, recognised and experienced global business leader having held a number of senior finance and Board positions over the past 4 decades.
Danesh holds a degree from Delhi University. He is a Chartered Accountant and a member of the Institutes of Chartered Accountants in India, England and Wales, Canada and Bermuda. Danesh is also a member of the Chartered Institute of Taxation, England. He has sat on numerous professional committees in Canada and India, including the Bombay Stock Exchange, FICCI and ICAO, and has had his articles published on international banking and finance in leading Canadian publications.
Danesh has, over many years, held several senior positions in the banking, corporate finance and accounting fields and Mr. Varma was the President and Managing Director of Dundee Bancorp and Dundee Investment Management and Research Ltd and was based in Bermuda and India. He was responsible for the oversight of the company's operation... s, formulating and executing long-term strategies, steering mergers and acquisitions, driving expansion into new geographies and building world class systems while managing client and investor relationships.
Subsequently, Danesh was involved within the junior mining sector and sat on the Board of numerous mining companies as their Finance Director / Chief Finance Officer. Within the mining sector, Danesh has been intimately involved in raising capital for junior mining companies and listing them in Toronto and London. He served on the Board of numerous mining companies including Aureus Mining Ltd., Canadian Zinc Corporation, Feronia Inc. and Ovoca Gold plc. He currently serves as Chief Finance Officer for Anglesey Mining plc, Xtierra Inc., Conquest Resources Ltd. and Minco plc. Laterally, he is on the Board of Labrador Iron Mines Holdings Ltd in Canada and Iron AB.
Given his long-standing relationships in the financial sector, Danesh also runs Global Preservation Strategies Ltd., an asset management firm in London that is regulated by the Financial Conduct Authority. Danesh sits on the Board of Brookfield Infrastructure Partners LLP as their Managing General Partner and is presently Director of Crowd For Angels, a London based crowd-funding platform regulated by the Financial Conduct Authority.
All bios