Baggage
Cabin and Check-In Baggage allowance
Cabin Baggage Allowance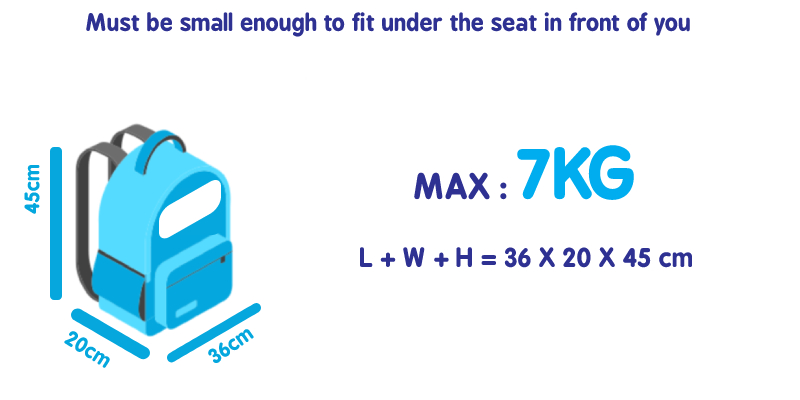 Extra items allowed: Umbrella, walking stick, duty-free bag of goods, laptop bag or handbag.
Oversize Cabin Baggage will not be allowed and will be placed in the hold. It will also be subject to a check-in baggage fee.
See below for more information
Check-In Baggage Allowance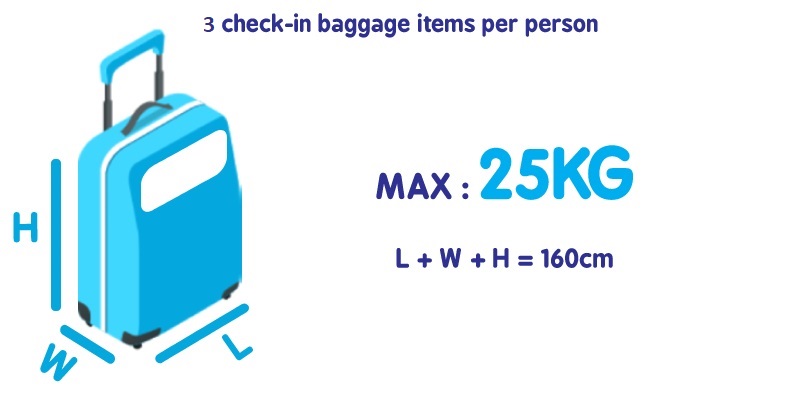 Total dimensions should be no larger than 160cm.
Oversize Baggage will be subject to a fee or refusal to carry.
Overweight Baggage will be subject to an excess baggage fee.
See below for more information
Cabin Baggage :
1. Allowance for children and infants
Children and Infants with seats booked have the same Cabin Baggage allowance as adults.
If you are travelling with a child or an infant then there are some other items which you are permitted in the cabin. Please refer to information on Travelling with children.
2. Medicines and e-cigarettes
E-cigarettes can be carried in Cabin Baggage but use is strictly prohibited on board.
Medicines and certain medical equipment are allowed in the Cabin. Please refer to our medical conditions page.
3. What you can hold in your carry on baggage
You may carry up to 5 electronic devices (mobile, laptop, computer, game console etc.) into the cabin and up to 10 additional lithium batteries.
Some fragile, perishable or valuable items must be in your Cabin Baggage and not in your Check-In Baggage such as jewellery, cash or negotiable paper, business documents etc. If you are not sure if an item is in this category then please refer to our dangerous items.
Check-In Baggage :
4. General
All check-in baggage is subject to a fee.
At some airports we may operate an auto bag drop-in, it is your responsibility to correctly attach the baggage receipt tags to your check-in baggage and follow all the listed instructions.
Every item of check-in baggage must have your name and other personal identification details attached to it. We also suggest that you put this information inside your check-in baggage as this could prove useful in the event of a dispute.
Please make sure that you do not have any banned goods in your check-in baggage.
There are some items that you should not place in your check-in baggage. Please check 'Valuable and Perishable Items' on our dangerous items information page.
If you have special items you wish to transport then as a general rule these can go into your check-in baggage if they fit within the normal baggage size restriction but please refer to our special baggage information page.
If you are unsure of any item please contact the airport before you arrive.
5. Oversized:
Check-In Baggage maximum size should be no larger than 160cm being the L + W+ H total measurements. Any items larger than this will be refused.
It may be possible to book oversized items into the cargo section of the hold if there is availability. This will need to arranged with our cargo agents and not with flypop.
6. Overweight:
If any check-in baggage exceeds 25kg you will have to pay an excess fee for each kilogram that you exceed.
For health and safety reasons the maximum weight for any single check-in baggage item is 32kgs.
If any check-in baggage item exceeds this weight it will not be permitted on the plane and will be refused.
flypop takes no responsibility for any overweight or oversized baggage left at the airport.